Japchae
We love Japchae, the Korean counterpart of our Guisadong Pancit. It was cool this morning, so, instead of cooking our usual pancit, we decided to go Korean! The ingredients are local except for the noodles.
Here's our easy all-vegetable version of this dish: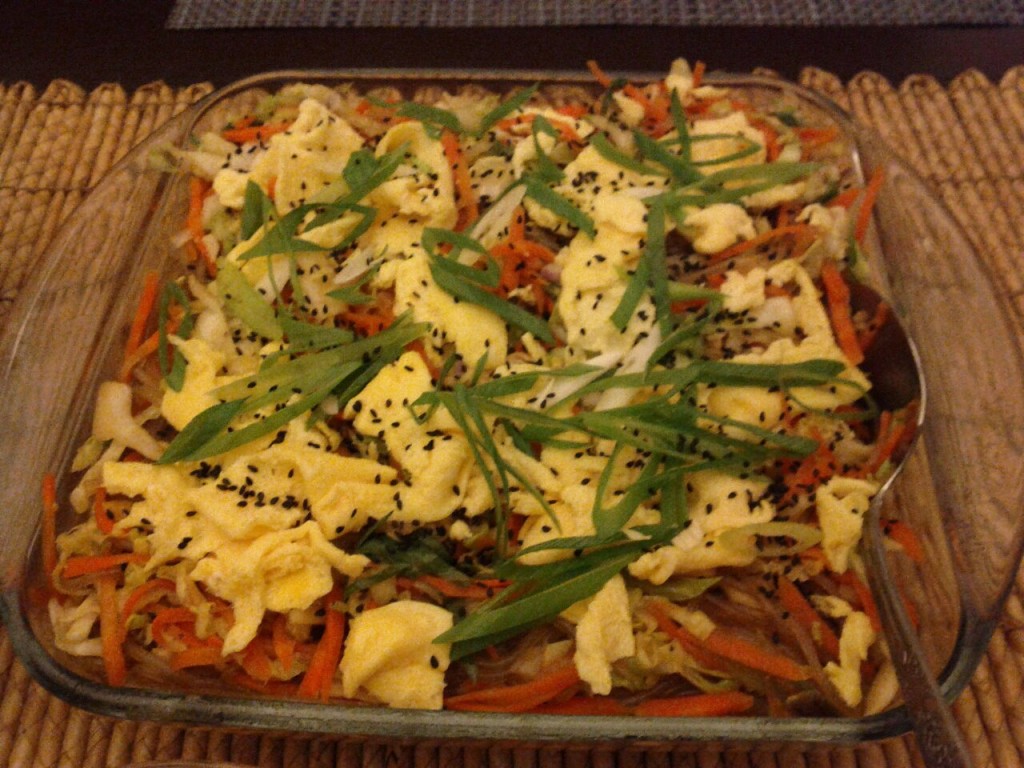 EASY JAPCHAE
Ingredients:
Starch noodles (buy in Korean grocer – they're everywhere even in Palawan!)
2 tbsp organic EVCO (Extra Virgin Coco Oil)
5-6 cloves of garlic, minced
1 medium size red onion, chopped
500g cabbage, sliced thinly
1 medium size organic carrot, sliced thinly like matchsticks
2-3 stalks of leeks, sliced thinly diagonally
Naturally fermented soy sauce, sesame oil, sugar, pepper, and black sesame seeds
2 organic farm eggs, scrambled & sliced thinly for topping
1 tbsp black sesame seeds (bought ours from Manny Onalan in Legaspi Market)
Procedure:
Cut onion, carrot, and leeks  into thin matchstick-shaped pieces about 5 cm long.
Boil 2 bunches of noodles in boiling water in a big pot for about 6 minutes (depends on the brand; check packaging). When the noodles are soft, drain them and put in a large bowl.
Cut the noodles several times by using scissors and add 1 tbs of soy sauce and 1 tbs of sesame oil. Mix it up and set aside.
Stir-fry in EVCO garlic, onions, carrots, and cabbage. We usually half-cook our veggies.  Mix soy sauce and sesame oil in a large bowl.
Add about 2 tbsp of soy sauce, 3 tbsp of sugar, 2 tbsp of sesame oil, and 1 tsp of ground pepper to the large bowl. Add more or adjust according to your taste.
Mix all ingredients, top it with the sliced scrambled eggs and leeks.
Finish by sprinkling toasted sesame seeds.
Serve with rice and Kimchi, or as a side dish. Makes 4-8 servings (depending on appetite)
Here's a related video about cooking Japchae.
Do you think we should add beef, chicken or pork next time?